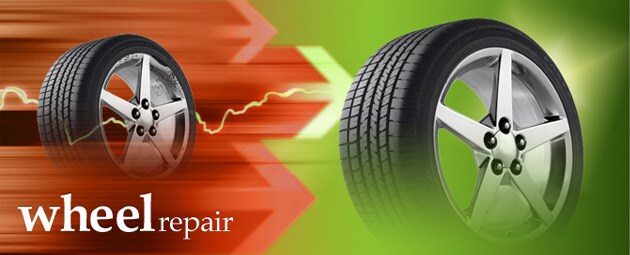 Can Alloy Wheels Be Repaired?
Yes. In fact, in many cases, the Expert Master Technicians at Lone Star Ford Collision Center in Houston can restore your alloy wheel to it's original finish at a fraction of the cost for a new OEM alloy wheel. Whether you're trying to save money with your lease return, or you just can't stand to look at the scratch on your alloy rim, the folks at Lone Star Ford Collision Center are here to help all drivers in the Houston and Sugar Land area.
Some of our service include:
Repair scraped rims
Repair gouged rims
Repair scratched rims
Repair stained rims
Repair corroded rims
Rim and wheel restoration

Alloy wheel replacement

Did you know that if you're driving on a bent or broken alloy wheel, this can create vibrations that cause unnecessary stress to suspension parts and potentially can cause unsafe driving conditions. With that said, we will give you an estimated alloy wheel repair cost and try our best to repair your wheel if there is a minor scrape, ding or stain, but a replacement may be the best option.
Our certified Master Technicians at Lone Star Ford Collision Center in Houston will first inspect damaged alloy wheels to determine whether the wheels can be repaired.
We follow a strict "Safety First" policy, and we'll only repair damaged alloy wheels if the repair can be made in a manner that is consistent with manufacturer service guidelines. 

Schedule Your Appointment
Today!